Looking for some fun activities to do at home? Way Public Library has a variety of programs targeted toward elementary and intermediate audiences!
The Bookaneers Online Book Club for ages 8-12 will meet Thursday, May 6 at 4:00PM via Zoom to discuss We're Not From Here by Geoff Rodkey. Registration on our website is now open.
STEAM Eats: Sorbet in a Bag! Let's use some fun science to make sorbet in a bag! We'll use ice, rock salt and juice to make a tasty sorbet. While we make our sorbet, we can listen to a story from the book "Frog and Toad All Year." Items for this experiment will be available at the Way Public Library from 4/19/21 until supplies last.
STEAM: Constellation Projector: Try a little stargazing at home with our latest STEAM activity! Miss Alyssa will show you how to make a simple projector using a craft tube, paper, a rubber band and a flashlight.
STEAM Activity: Coding: Learn about the women who made history by using math and coding to get the first man on the moon. We'll read the picture book: Hidden Figures. Then we'll get our own person on the moon using coding!
STEAM Create: Salt Dough Dinosaur Fossils: Make your own dinosaur fossils out of salt dough in the latest STEAM kit perfect for aspiring paleontologists! Miss Alyssa will take you step by step through the project during this video.
STEAM Create: Gumdrop Bridges: Help the Gingerbread Boy get away from all the hungry creatures that want to eat him! Miss Alisha will read "The Gingerbread Boy" and then demonstrate how to make a "gumdrop bridge" to help get the Gingerbread Boy across the lake.
STEAM Challenge: Make a Fidget Toy for Crankenstein: How can we calm down Crankenstein? We'll read Crankenstein by Samantha Berger. Then we'll create a fidget toy to help our Crankenstein. Materials for the craft are available at Way Public Library from Oct 12-Nov 16, 2020.
STEAM Challenge: Takeoff: Miss Alyssa shares two airborne STEAM projects and a space story in this video for elementary children! The supplies may be available at the library for pick up from 9/14/20-10/12/20. 
---
The Pizza and Pages Online Book Club for ages 12-16 will meet Friday, May 14 at 4:00pm via Zoom to discuss The Young Elites by Marie Lu. Copies of the book are available at the Information Desk.
Register online at this link.
If you have any questions please contact Miss Crystal at 419-874-3135, ext. 113 or via email at This email address is being protected from spambots. You need JavaScript enabled to view it..
---
Natalie Dielman is leading book discussion groups using Facebook Groups. She is currently moderating a discussion group on "The Count of Monte Cristo" by Alexandre Dumas and also a more generalized Online Book Group for you to share your love of books with people in your community.
The Way of the Whale (Reading "The Count of Monte Cristo" discussion group). Adults.
https://www.facebook.com/groups/215143109751756/  
Next up for the big reads group is "The Count of Monte Cristo" by Alexandre Dumas. Here we'll post discussion questions, literary analysis, and interesting facts about the book. Online discussions will take place Sundays at 7 pm August 16th-November 8th.
---
Stephanie Coil has put together several crafts for folks to try at home. She's planning to continue to make more and we will post them here as they arrive. Stephanie highly recommends Creative Bug, a crafting database you can access for free with your library card.
Do you have questions about one of these crafts? Contact Stephanie Coil at This email address is being protected from spambots. You need JavaScript enabled to view it. or leave a voicemail at 419-874-3135 extension 130.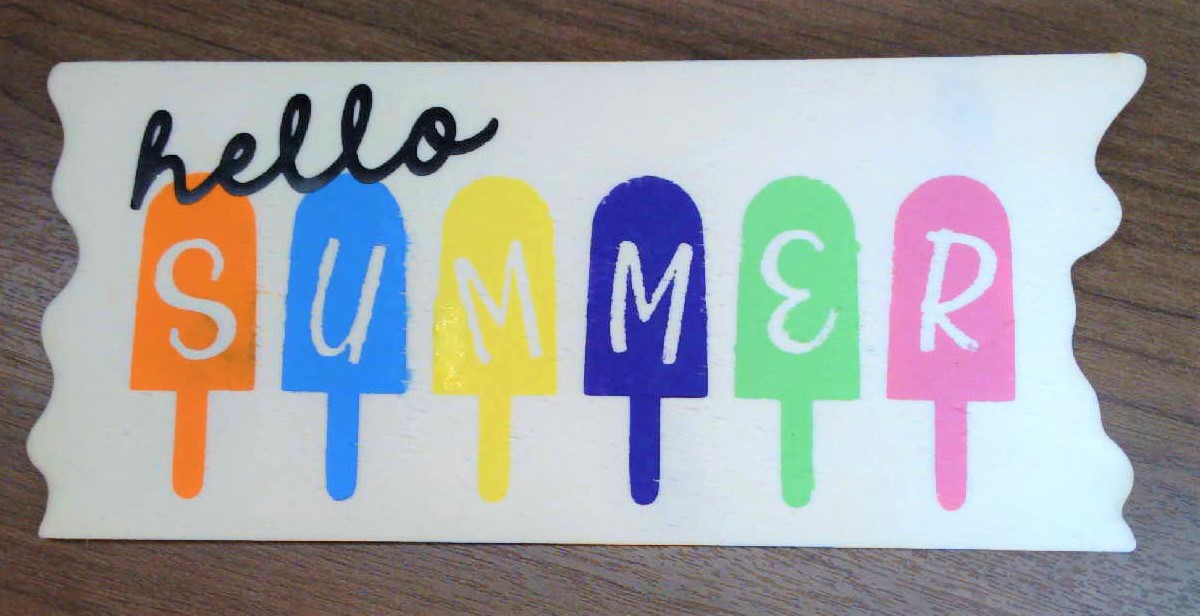 NEW - Hello Summer Sign
Kits for the Hello Summer Sign will be available at Way Public Library starting Wednesday, June 2nd. The kit includes: a wood sign, reusable popsicle stencil, sponge paint dabber, the letter for "SUMMER" cut from contact paper, the word "hello" cut from adhesive vinyl, a paint palette with orange, blue, yellow, purple, green, and pink paint, a toothpick, and instructions. The Zoom Crafternoon with Stephanie is on Wednesday, June 9th from 2-3 pm. The kits are available only while supplies last.
Hello Summer Sign Craft Kits are sponsored by our friends at Directions Credit Union.
Crystal Morris, Teen Librarian, has created a new Way Teen Instagram Page to help stay in touch with young adults ages 13 to 16.
This page will feature an assortment of posts focused on books and library activities such as:
Question of the Day 
Teen focused library news
Upcoming event information
Photo challenges
...and more!
For questions regarding this new page, please email Crystal Morris at This email address is being protected from spambots. You need JavaScript enabled to view it. or leave a voicemail at 419-874-3135 extension 113.
---
Subcategories