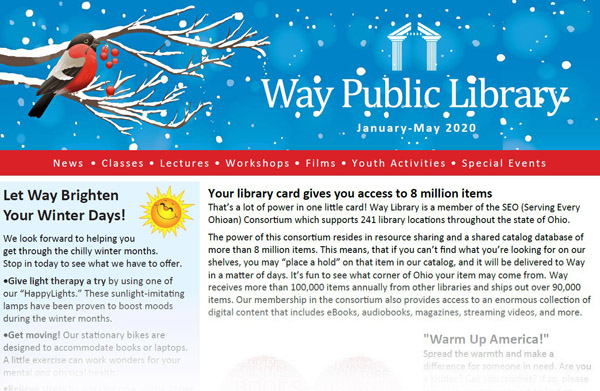 Winter Program Guide 2020
If you missed our massive program guide, it's now available to download.
This program guide covers most of our programs from January to May in one easy to read or print PDF.
Happening at Way
Way Library offers a vast selection of educational, entertaining, and enriching opportunities. For an up-to-date list and to register, click on a link below.
Snowball 2020
Fun for the entire family! Snowball Toss, Bingo, Make-and-take Crafts, Megablocks, Snowman Stacking, Super Cool DJ, Tasty Snacks, and so much more!
Visit children.waylibrary.info to learn more!
Assistance in 2020
AARP Free Tax Assistance is returning.
Follow the link below for information on scheduling your appointment.
Beyond Books
Why buy when you can borrow? Unusual, fun, and useful items that can be checked out with your library card!
Visit Beyond Books now. We have exciting new items to show you!
Now Showing
Topics Camera Club Photography will be on exhibit through late February, 2020.
Artist-in-Residence
This winter, Way Library will be hosting an artist-in-residence. Local artist Robert Vanitvelt will share his art with the community by presenting three programs and also holding monthly office hours at the library.
Online Services Simplified
Way has constructed a portal to help you easily learn about and access all of our online streaming and information services.
Visit http://digital.waylibrary.info now.
Flipster
Access leading digital magazines on your mobile device or computer. Read an unlimited number of magazines with no need to check out or return titles!