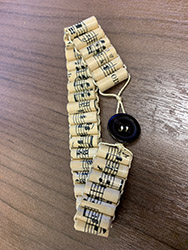 Stephanie Coil has put together several crafts for folks to try at home. She's planning to continue to make more and we will post them here as they arrive. Stephanie highly recommends Creative Bug, a crafting database you can access for free with your library card.
Do you have questions about one of these crafts? Contact Stephanie Coil at This email address is being protected from spambots. You need JavaScript enabled to view it. or leave a voicemail at 419-874-3135 extension 130.
New: Paper Bead Bracelet
Enjoy these step-by-step instructions on how to make a Paper Bead Bracelet. Stephanie used sheet music to create her bracelet beads but any kind of paper would work – book pages, newspaper, or colorful scrapbook paper! We'd love to see pictures of your bracelet when you're finished.  See a quick video of Stephanie making a single bead here. 
Simple Birdseed Ornament 
Stephanie Coil has created directions for a Simple Birdseed Ornament that can be hung in a tree so that we can make a difference for birds on Earth Day!
Toilet Paper Roll Roses
Something tells us you may have these supplies on hand... Enjoy this PDF with step-by-step instructions for you to make these timely blossoms. Make a whole bouquet! Don't forget to share your pictures if you give this craft a try!
Book Page Wreath Workshop Directions
Remember when Way Library had a fantastic Book Page Wreath Workshop? Though it seems like a lifetime given all that's been happening, it was really only a few weeks ago!  Michelle Keedy of Bombshell Redesign has given us permission to post her instructions so you can make this beautiful wreath while you stay home to stay healthy. Thank you, Michelle!
---