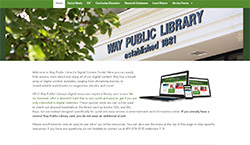 Way Library is busy providing information, answering questions, and creating online content for the community while its physical doors are temporarily closed.
To ask a question or request information, there are several ways to get in touch with the library staff. Call the library at 419-874-3135 to leave a voicemail message; use the "Ask-A-Librarian" feature on the website at https://waylibrary.info; or send a message via Facebook. All of these options are being monitored remotely by library staff members.
The Library's digital catalog is vast. Visit https://digital.waylibrary.info to explore the many educational, instructional, and entertainment options available. If you do not have a library card, you can apply for an e-card with an online application. It will be processed quickly so that you may start enjoying the Library's digital offerings right away.
Though staff members are observing the governor's "stay-at-home" directive, they are still hard at work creating fun and informational content for the community. Much of the new content will be featured on the Library's Facebook page.
If your children are missing Miss Melissa and Miss Alisha, they will be excited to hear that Story Times will go on—digitally. The Youth Services staff will post story time videos on the Library's Facebook page every week featuring your children's favorite librarians. Look for Toddler Times on Tuesdays, Preschool Story Time on Wednesdays, and Mother Goose for babies on Thursdays.
The technology department is developing video tutorials for using our digital materials such as books, downloadable audiobooks, music, movies, comics, and magazines. These will also be posted on Facebook from the Library's YouTube channel. Watch them and learn how to use the library's huge collection of digital resources from the safety of your home!
Library programming specialist Natalie Dielman is arranging online yoga classes and book discussion groups. Her next Facebook book discussion is on Friday, April 3 at 1 pm. Anyone can participate in online PuzzlePalooza, also found on Way's Facebook page.
Stephanie Coil has created a fun craft using empty toilet paper tubes. Watch for more craft ideas from Stephanie in the days ahead.
Way Library continues to find innovative ways to serve the community during this unexpected "pause." Questions and ideas are welcome!
---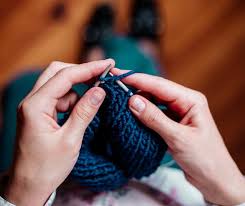 Before COVID-19 wreaked havoc with the world, Way Library and the local group The Witty Knitters were engaged in a knitting service project for the charitable organization "Warm Up America!" Though the library is temporarily closed, the project goes on.
If you know how to knit or crochet, perhaps you would like to use some of this unexpected time at home to create 7" x 9" sections using one of the patterns provided online. Free patterns and information about the proper supplies may be found at warmupamerica.org. You may keep the completed rectangles at home until the library reopens.
Warm Up America! is a 501c3 nonprofit foundation which coordinates volunteer efforts and distributes afghans to individuals and families through community service organizations such as the American Red Cross. Agencies which have received donated afghans include women's shelters, nursing homes, children's hospitals, hospitals, hospices, daycare centers, veterans' homes, churches, AIDS facilities, homeless shelters, and more.
---
TumbleBooks' databases are easy to use, and feature unlimited access from home! You can read as many books as you want, when you want, and on any device. There are no check-outs, holds, or bulky downloads. Books are available instantly.
Because of a generous offer from TumbleBooks, Way Public Library has free access to TumbleBook's complete suite of online materials. These online resources are great sources of entertainment and information for all ages.
www.TumbleBookLibrary.com - Kindergarten through 6 grade children's ebook database
Direct Link: https://www.tumblebooklibrary.com/auto_login.aspx?U=tumble735&P=books
www.TumbleMath.com - Kindergarten through 6 grade math ebook database
Direct Link: https://www.tumblemath.com/autologin.aspx?U=tumble2020&P=A3b5c6
www.TeenBookCloud.com - Grades 7 through 12 ebook database
Direct Link: https://www.teenbookcloud.com/autologin.aspx?U=tumble2020&P=A3b5c6
www.AudioBookCloud.com - All ages audio book database
Direct Link: https://www.audiobookcloud.com/autologin.aspx?U=tumble2020&P=A3b5c6
www.RomanceBookCloud.com - a huge collection of Romance novels for the older crowd!
Direct Link: https://www.romancebookcloud.com/autologin.aspx?U=tumble2020&P=A3b5c6
---