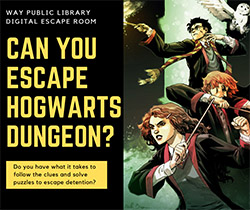 Created by Technology Specialist Rachel Henck Bentley, Way happily offers you some digital escape rooms to exercise your brain during Governor DeWine's stay at home order. Puzzles, word scrambles, riddles, and more await you!
New: Totally Radical 80's Time Travel Adventure
Teens to Adult
This escape room is geared more for teens and adults.  Follow the puzzles and clues to see if you can get the right answers to get back to your own time and not be stuck in the 1980's
Locked in the Library
Grades 3-5 (but all ages!)
"Follow the story and answer puzzles and look for clues in this digital escape room to find the code to avoid being Locked in the Library!"
Can You Escape Hogwarts Dungeon?
Ages: all Ages
"For shame! Professor Snape has caught you talking with your friends again during Potions class. You are now stuck in the dungeon for detention while everyone gets to go to Hogsmeade and have fun. Solve the puzzles and do your best to escape from detention with another fun digital escape room."
---