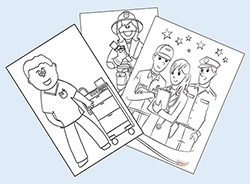 The providers who are on the job every day bringing essential services to our community often do so at great personal risk. How can we express our thanks to them while we are under Ohio's "Stay-at-Home" order?
Way Library has put together a coloring book featuring some of these community helpers. Children are encouraged to color pictures to honor those who are providing medical care, prescriptions, groceries, necessary household goods, protection, and other things that we can't do without during the pandemic.
The coloring book can be found on online. Pages can be printed individually and colored to be displayed in windows at home or left in the designated receptacle at the library's front door. Any coloring pages left at the library will be gathered weekly and displayed in the library's windows.
---