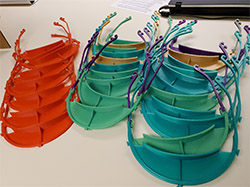 What are Way Library's technology specialists doing during the pause in in-person services at the library? A lot! Besides remaining available by phone, email, and social media to answer questions, Adam Marier and Rachel Henck Bentley have continued to help people become more proficient in the use of the library's digital resources. They have filmed step-by-step tutorials which are available on Way Library's YouTube channel, and they have created a fun, digital "Escape Room" for elementary age children.
That's not all they are doing. Adam and Rachel each took home one of the library's 3D printers. In the background, while Adam and Rachel work at home, the quiet whir and melodic beeps of Way's 3D printers provide a continuous soundtrack. One by one, very special visors are being 3D printed. Through a collaboration which originated at Dana, Inc., Way Library and other 3D printer owners have been mobilized to produce parts for protective face shields which are donated to health care workers in our area. At Rachel's home, her personal 3D printer has been pressed into service for the same purpose. As each visor is completed, it is packaged for delivery to Dana, Inc.
While the visor portion of the shield assembly is 3D printed, Dana, Inc. is providing and cutting the clear plastic shields which will be attached to them. The completed protective shield assemblies are distributed by Dana through a distribution channel with Promedica Health Systems. They are then provided to the courageous health care professionals who are working on the front lines of the COVID-19 pandemic.
Way Library is grateful to be able to assist in the alleviation of the shortage of personal protective equipment for nurses, doctors, paramedics, caretakers, and others in the profession. During the spread of the highly contagious COVID-19, each and every mask can be a life-saver.
The library's 3D printers and supplies are funded by Way Public Library Foundation & Friends.
---