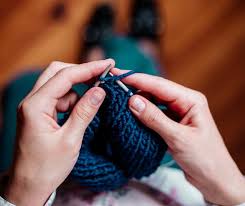 Before COVID-19 wreaked havoc with the world, Way Library and the local group The Witty Knitters were engaged in a knitting service project for the charitable organization "Warm Up America!" Though the library is temporarily closed, the project goes on.
If you know how to knit or crochet, perhaps you would like to use some of this unexpected time at home to create 7" x 9" sections using one of the patterns provided online. Free patterns and information about the proper supplies may be found at warmupamerica.org. You may keep the completed rectangles at home until the library reopens.
Warm Up America! is a 501c3 nonprofit foundation which coordinates volunteer efforts and distributes afghans to individuals and families through community service organizations such as the American Red Cross. Agencies which have received donated afghans include women's shelters, nursing homes, children's hospitals, hospitals, hospices, daycare centers, veterans' homes, churches, AIDS facilities, homeless shelters, and more.
---