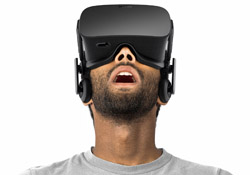 Have you noticed that Virtual Reality and Augmented Reality have been making the news lately?  With a bevy of new hardware being released for smartphones, video game consoles, and personal computers, a high quality virtual reality experience is now more accessible than ever.  Visit with us and learn why VR isn't just a trending fad and scientists think it will change the world forever.
You can schedule a two-hour time block to experience the Oculus Rift by yourself or with friends and family members.  Call 419-874-3135 extension 354 to schedule your time block!
Lastly, on December 5, we'll have a guided workshop on how to turn your smart phone into a personal VR headset.  You'll get assistance with installing the apps you'll need and constructing your own Google Cardboard headset.  There is a $10 fee, and registration is required at the Information Desk.