Stephanie Coil has put together several crafts for folks to try at home. She's planning to continue to make more and we will post them here as they arrive. Stephanie highly recommends Creative Bug, a crafting database you can access for free with your library card.
Do you have questions about one of these crafts? Contact Stephanie Coil at This email address is being protected from spambots. You need JavaScript enabled to view it. or leave a voicemail at 419-874-3135 extension 130.


NEW - Sheet Music Rose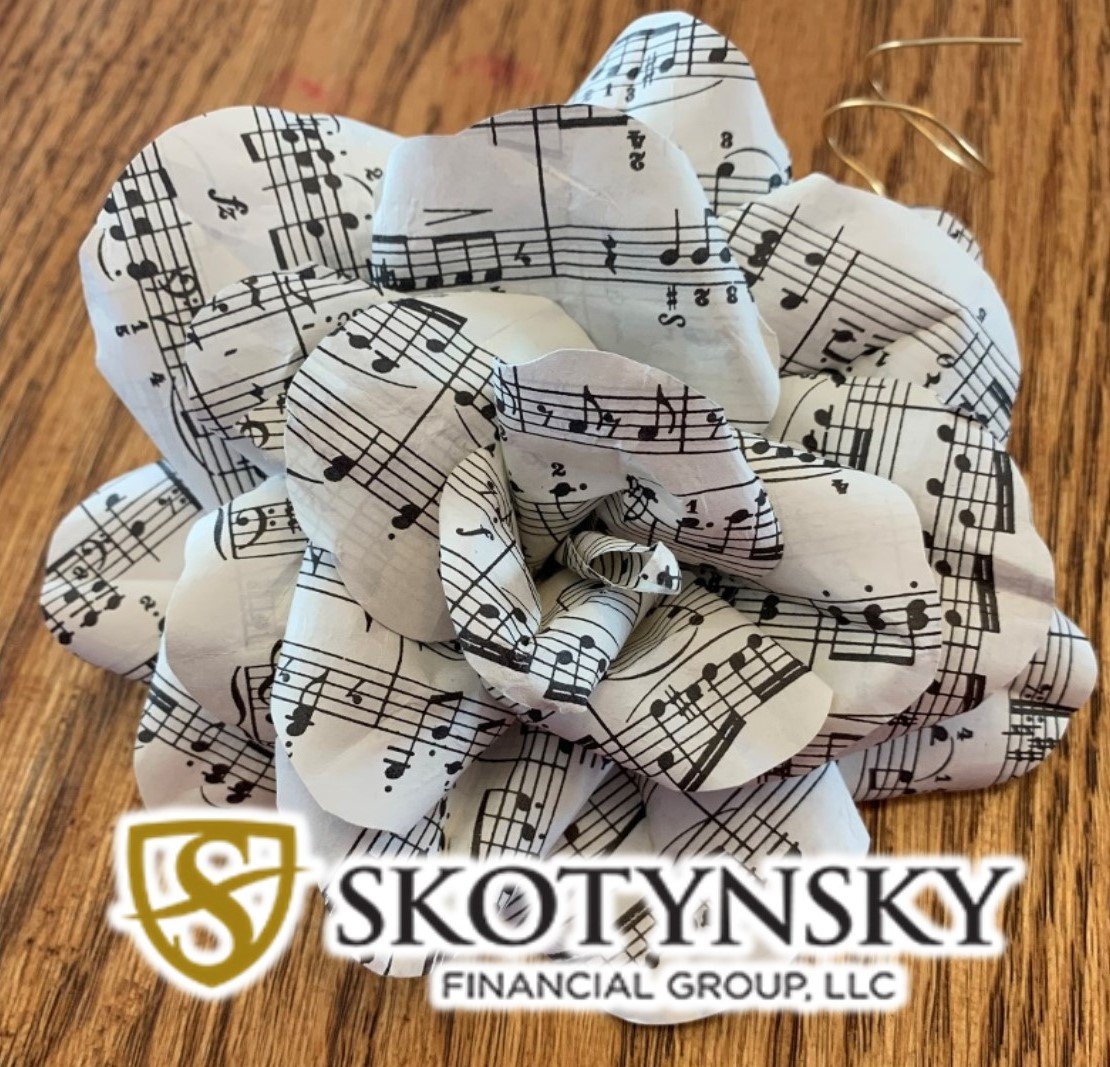 Adult take-home craft kits for the Sheet Music Rose are now available at the Circulation Desk! Stephanie Coil will be hosting a Zoom meeting to help with any questions about this craft on Wednesday, February 24 from 2-3pm. Register for the meeting at https://waylibrary.libcal.com/event/7377059.
February Adult Take-Home Craft Kits are sponsored by our friends at Skotynsky Financial Group, LLC.
Previous Crafts
Heart Puzzle Wreath
The Heart Puzzle Wreath adult take home craft kits are available at the circulation desk starting today - Monday, February 8 - on a first come/first serve basis. Stephanie Coil will be hosting Crafternoon with Stephanie on Zoom - Friday, February 12 - from 2-3 pm. Although the class is full, a waitlist is available.
Toilet Paper Roll Snowflake
The next adult take home craft is the Toilet Paper Roll Snowflake. Decorate for the winter months with this glittery, hanging snowflake. Kits are available at the Circulation Desk beginning today (Wednesday, January 20) and are available on a first come/first served basis. Registration for Crafternoon with Stephanie for the Toilet Paper Roll Snowflake is available online at waylibrary.info. This online Zoom crafting time will be Thursday, January 28 from 2 – 3 pm.
Snowman Button Art
Stephanie's first Adult Take-Home Craft Kit for 2021 is now available while supplies last! Pick one up at the Circulation Desk or schedule a curbside pickup for contactless delivery. Don't forget to register for Crafternoon with Stephanie. You can get any questions answered and enjoy crafting along with Stephanie and others on Wednesday, January 13. The Snowman Button Art craft is sponsored by our friends at Skotynsky Financial Group, LLC.
Yarn Hat Ornament
Celebrating the rivalry between Ohio State and Michigan, the Adult Take Home Craft is a Yarn Hat Ornament either in scarlet and gray OR maize and blue. (For those who don't really care, Christmas and Perrysburg colors are available also!) 
Folded Book Christmas Tree
Create a Folded Book Christmas Tree with the supplies in the Adult Take Home Craft available beginning Monday, November 30. Stephanie will be hosting a Zoom meeting on Friday, December 4 at 2 pm if you have any questions about the craft or just want to craft with others! Watch a video demonstration here!
Simple Sentiment
The Simple Sentiment kit includes a wood block with vinyl attached, a toothpick, and an instruction sheet.  Not included are your paint of choice, plastic cup or plate for paint, foam paintbrush and optional wood sealer.
Fall OR Halloween Book Page Banner
12 book pages, 7 squares or Fall OR Halloween paper, banner cardboard pattern, cauldron, pumpkin & witch's hat cardboard patterns for Halloween banner OR maple leaf, acorn & poplar leaf cardboard patterns for Fall banner, "FALL" or "BOO!" paper letters, 6 feet of twine are included in the kit.  Not included are a pencil, scissors, glue stick or double-sided tape, and a hole punch.  Show your love of reading and the season with these new banners!
Apple or Pumpkin Puzzle
Six-inch by six-inch piece of painted wood, Apple or Pumpkin stencil, 50 puzzle pieces painted orange or red, 2 grass green puzzle pieces, and a two-inch cut piece of light brown ribbon are included in the craft kit.  A hot glue gun with glue gun sticks OR wood glue or other strong glue is required but NOT included.  Show your fall spirit with these new crafts!
Duct Tape Zip Pouch
Two rolls of printed duct tape, two quart sized freezer slider bags, and instruction sheet on how to make the zip pouch are included in the craft kit. These duct tape zip pouches are great for pencil cases, make-up, snacks, mask bags, and more!
Bookmark with Tassle
Three plain bookmarks, nine pieces of yarn, and instruction sheets on how to make the tassel are included in the craft kit. Be creative! Bookmarks can have whatever design you choose. Use markers, colored pencils, crayons, stickers, colored paper, magazines, book pages, sheet music, glue, or rubber stamps with ink to create your one of a kind bookmark.
Sirius Star Ornament
You can create your own Sirius Star Ornament with book pages from Harry Potter and the Goblet of Fire.  See a quick video of Stephanie created the first page strip here.  Supplies are still available!
Paper Bead Bracelet
Enjoy these step-by-step instructions on how to make a Paper Bead Bracelet. Stephanie used sheet music to create her bracelet beads but any kind of paper would work – book pages, newspaper, or colorful scrapbook paper! We'd love to see pictures of your bracelet when you're finished.  See a quick video of Stephanie making a single bead here. 
Simple Birdseed Ornament 
Stephanie Coil has created directions for a Simple Birdseed Ornament that can be hung in a tree so that we can make a difference for birds on Earth Day!
Toilet Paper Roll Roses
Something tells us you may have these supplies on hand... Enjoy this PDF with step-by-step instructions for you to make these timely blossoms. Make a whole bouquet! Don't forget to share your pictures if you give this craft a try!
Book Page Wreath Workshop Directions
Remember when Way Library had a fantastic Book Page Wreath Workshop? Though it seems like a lifetime given all that's been happening, it was really only a few weeks ago!  Michelle Keedy of Bombshell Redesign has given us permission to post her instructions so you can make this beautiful wreath while you stay home to stay healthy. Thank you, Michelle!
---